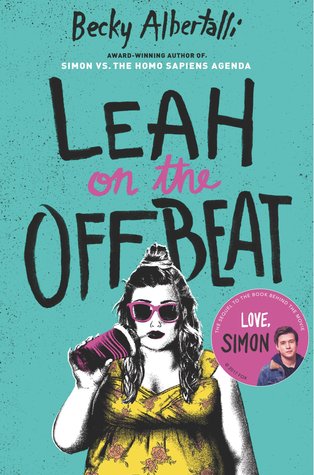 Author: Becky Albertalli
Series: Creekwood #2 
Genre: Young Adult 
Release Date: April 24, 2018 
Book Length: 339 pages 
Publisher: HarperCollins  

Review: 4.5/5
Goodreads Synopsis:
Leah Burke—girl-band drummer, master of deadpan, and Simon Spier's best friend from the award-winning Simon vs. the Homo Sapiens Agenda—takes center stage in this novel of first love and senior-year angst.
When it comes to drumming, Leah Burke is usually on beat—but real life isn't always so rhythmic. An anomaly in her friend group, she's the only child of a young, single mom, and her life is decidedly less privileged. She loves to draw but is too self-conscious to show it. And even though her mom knows she's bisexual, she hasn't mustered the courage to tell her friends—not even her openly gay BFF, Simon.
So Leah really doesn't know what to do when her rock-solid friend group starts to fracture in unexpected ways. With prom and college on the horizon, tensions are running high. It's hard for Leah to strike the right note while the people she loves are fighting—especially when she realizes she might love one of them more than she ever intended.
My Review:
Becky Albertalli has done it again. I adored this book! In Simon vs. the Homosapiens Agenda when I was first introduced to Leah, I have to admit that she kind of annoyed me a little because she was always so negative and snarky. However, even though we got exposed to that side of her again, we also get to see her softer side. I can kind of relate to her with the whole 'having my guard up all the time and wanting everything perfect so I shut people out' thing, so I guess the main reason she annoyed me then was because I saw myself in her.
Like with all Albertalli's other books, I read the majority of this in one day; her writing is just so addictive. The only critical thing I have to say about this was that the ending wrapped up rather abruptly and I would have liked to know a bit more about everyone else's reaction at the end. There's not much else I can say without spoiling it, so if you are thinking about reading this definitely go for it! I recommend it all the way 🙂
---