Hi random burst of creative energy to write a blog post that's not a book review for the first time in almost a year – how are ya? 💁🏻‍♀️
So it's been a while since I've written something like this but I've been feeling very inspired to take my blogging back by the reins this year, so here goes!
In a previous post back in 2018, I wrote about 5 Literary Themed Restaurants Around the World – in that post, one of the places I wrote about was The Lockhart in Toronto, Canada which is a Harry Potter-themed bar. In it, I vowed, and I quote: "You better believe I am going here after I finish the series and I will have a blog post up about it when I do." I did finish the series, but I didn't go to the bar immediately after (I should have). However, I've done it now (twice!) and I am very excited to share my experience.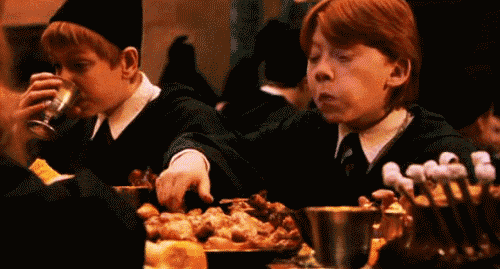 The Lockhart is a quaint little cocktail bar a little bit outside of the downtown core. They have mostly regularly-named food and drink, but some themed names as well, like the Better Beer – a play on Butter Beer which I still want to try in Harry Potter World – or Dementor's Kiss which are two drink names that caught my eye. I opted for the Better Beer, which is tequila-based and it was delicious! They do a very good job of masking the taste of alcohol in this drink, but it's definitely strong enough to feel the effect of. Below is a photo of what it looks like – I seem to have misplaced the photo I took at the time, but this is one from their website:
Along with drink options, they also of course have food. I got chicken and waffles – the portion was huge and the chicken was very flavourful and crispy, which I liked:
Although I went there to eat and drink, I especially appreciated how they decorated the place. They have a neon sign by the bar that says 'all was well' which are the last words in Harry Potter and the Deathly Hallows; and also a wall of framed photos of Dobby (my favourite 🥰).
I love that I got to experience this place after reading all of the books; I adore it and am already eager to go back again. The staff is very friendly, the food and drink are great, and I love the aesthetic.
Now, I'm on the hunt for more literary-themed places to visit and I can't wait for what will be next… ✨
-Catherine
Let's connect! Goodreads | Twitter
---