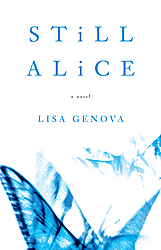 Author: Lisa Genova
Series: Standalone
Genre: Fiction
Release Date: July 6, 2007
Book Length: 292 pages 
Publisher: iUniverse
Review: 4/5
Goodreads Synopsis:
Still Alice is a compelling debut novel about a 50-year-old woman's sudden descent into early onset Alzheimer's disease, written by first-time author Lisa Genova, who holds a Ph. D in neuroscience from Harvard University.
Alice Howland, happily married with three grown children and a house on the Cape, is a celebrated Harvard professor at the height of her career when she notices a forgetfulness creeping into her life. As confusion starts to cloud her thinking and her memory begins to fail her, she receives a devastating diagnosis: early onset Alzheimer's disease. Fiercely independent, Alice struggles to maintain her lifestyle and live in the moment, even as her sense of self is being stripped away. In turns heartbreaking, inspiring and terrifying, Still Alice captures in remarkable detail what's it's like to literally lose your mind…
My Review:
Occhiolism (n) – the awareness of the of the smallness of your perspective in the grandness of the vast scope of the Universe.
I like books that widen my perspective—books that make me aware of how small the world—my world—is in the grand scheme of things. That is what this book did to me.
It was heartbreaking to read about Alice's condition worsening and her going from giving talks at Harvard to not even recognizing her own children. I think a lot of people have the misconception that Alzheimer's is something that only happens to the elderly, but this really opens your eyes to the fact that it happen even to younger, well-educated, successful people that you wouldn't typically associate the disease with.
I liked how the book focused on the familial relationship and how her husband and children coped through the progression of the Alzheimer's alongside Alice. At times I grew frustrated with her husband especially, because it felt like she had almost become a burden in his life rather than someone he loved and wanted to care for. However, I also couldn't even imagine someone with whom I had built over 25 years of life with developing something so slowly deteriorating, so I did begin to understand his character and sympathize as time went on. I think the Alzheimer's actually made her family closer, which is sad but also a reality that many families do face. That's what I particularly liked about this – it felt honest and real. Alice's life still had meaning and value even though she couldn't remember much of it by the end. Her value was derived not by what she was able to remember, but by everything she gave of herself throughout her life to others to remember her by.
Although I didn't cry, this book made me emotional on several occasions as I got to feel like I really knew Alice and grew to love her. I really enjoyed reading this book and it will remain close to my heart forever.
"My yesterdays are disappearing, and my tomorrows are uncertain, so what do I live for? I live for each day. I live in the moment."
– Catherine
Let's connect! Goodreads | Twitter
---