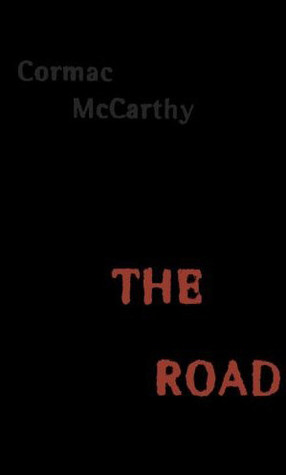 Author: Cormac McCarthy
Series: Standalone
Genre: Science Fiction
Release Date: September 26, 2006
Book Length: 241 pages 
Publisher: Alfred A. Knopf
Review: 4/5
My Review:
In a post-apocalyptic world where a man and his son struggle to survive, The Road offers a horrifying glimpse into what life is like for the little civilization that is left.
This book follows the man and child as they are walking along the road in search of food, shelter, and supplies to continue their journey. Admittedly, it wasn't until about the 40% mark that things started to get interesting for me. Up until that point, it didn't seem like the two were faced with very many dangers aside from the unfortunate living conditions that made it difficult to get through each day. This danger eventually came in the form of people whom the boy referred to as "bad guys" that seemed to be capturing, severing and eating other humans. As they ventured off the road from abandoned house to abandoned house searching for what they needed, I was always curious as to what, if anything, may be lurking in the shadows next.
Although the man and the boy do not speak to each other very much, the conversations they did have pulled at my heart strings. It was evident that in this new world, people were forced to harden in order to maintain any chance of going on, but the true softness of humanity could still be found in the voice of the child. Society had become very 'every man for himself', yet it was the boy who always found it in his heart to ask his father to extend a hand and share their food or bring other potential 'good guys' along on their journey.
This is undoubtedly a book about survival, but not so much about the act itself as it is about the survival of the defining qualities of human nature: compassion, hope, humility, kindness, and optimism—even when it seems too difficult to carry on.
What's the bravest thing you ever did?
He spat into the road a bloody phlegm. Getting up this morning, he said.
-Catherine
Let's connect! Goodreads | Twitter
---