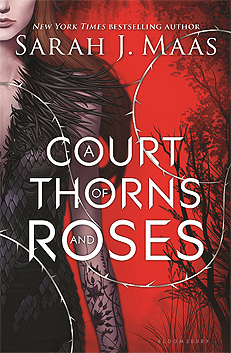 Author: Sarah J. Maas
Series: A Court of Thorns & Roses
Genre: Fantasy
Release Date: May 5, 2015
Book Length: 416 pages 
Publisher: Blooomsbury USA Children's
Review: 3/5
Goodreads Synopsis:
Feyre's survival rests upon her ability to hunt and kill – the forest where she lives is a cold, bleak place in the long winter months. So when she spots a deer in the forest being pursued by a wolf, she cannot resist fighting it for the flesh. But to do so, she must kill the predator and killing something so precious comes at a price …
Dragged to a magical kingdom for the murder of a faerie, Feyre discovers that her captor, his face obscured by a jewelled mask, is hiding far more than his piercing green eyes would suggest. Feyre's presence at the court is closely guarded, and as she begins to learn why, her feelings for him turn from hostility to passion and the faerie lands become an even more dangerous place. Feyre must fight to break an ancient curse, or she will lose him forever.
My Review:
No one understands how happy I am to finally be done this book. No one. Not because I disliked it, but because it took me way too long to get into it once I did—which is sad because the second half was actually really great!
If I went to look up 'hyped' in the dictionary, this book/series would be plastered all over the page—you wouldn't even be able to see the definition. Do I think it's for good reason? Somewhat. The last half of the book was amazing, but it didn't entirely make up for how painfully slow the first half was. I kept asking myself if I was reading the same book everyone else has been because nowhere had I been warned of how anticlimactic it could be at times. I appreciate a slow burn, but not too slow a burn which is what I felt this was.
However, when the pace picked up, it really picked up and I had a hard time not thinking about reading it every chance I got. Honestly, once I saw that there was a map at the beginning of the book, I was all in and that aspect did not disappoint. The world Sarah J. Maas created  was really cool; I wish I could actually see it come to life (although that would be bad because we as humans wouldn't stand a chance in it, but whatever).
Feyre was also such a badass character, and it was nice to see her walls come down a bit as the story progressed. I felt like, although flawed, she was a pretty well-rounded protagonist and someone I wanted to root for. I liked being kept guessing whether characters like Lucien, Tamlin, and Rhysand were 'good' or 'evil' because that is what kept me going through the slower parts. I have heard these names floating around the book community for a very long time, and it was exciting to actually be reading about them finally!
Hopefully the next books bring more action and excitement because I can't wait to see how it all unfolds.
What did you think of this book if you've read it? Did you have the same problem with the pacing? Does the series get even better? I would love to know!
Catherine
Let's connect! Goodreads | Twitter
---