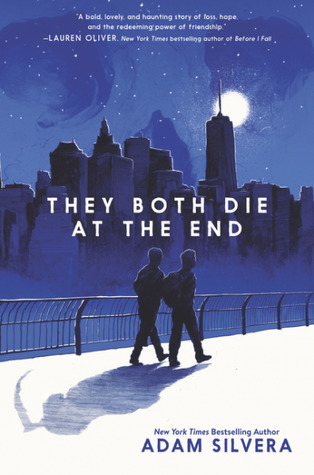 Author: Adam Silvera
Series: Standalone
Genre: Young Adult
Release Date: 2017
Book Length: 368 pages 
Publisher: HarperTeen
Review: 2.5/5
Goodreads Synopsis:
Adam Silvera reminds us that there's no life without death and no love without loss in this devastating yet uplifting story about two people whose lives change over the course of one unforgettable day.
On September 5, a little after midnight, Death-Cast calls Mateo Torrez and Rufus Emeterio to give them some bad news: They're going to die today.
Mateo and Rufus are total strangers, but, for different reasons, they're both looking to make a new friend on their End Day. The good news: There's an app for that. It's called the Last Friend, and through it, Rufus and Mateo are about to meet up for one last great adventure—to live a lifetime in a single day.
My Review:
I'm kind of sad right now, and no it's not because They Both Die at The End, but because this did not live up to the hype for me.
As someone who is a sucker for quotes, I can say that this book has a couple good ones:
"…no one should feel bad for trying to be good." 
"There has to be more to life than imagining a future for yourself. I can't just wish for the future; I have to take risks to create it." 
However, a book needs a little more than a few inspirational quotes sprinkled in there every 20 chapters to keep me intrigued. Of course I felt awful for Mateo and Rufus–they were called by Death Cast, a company that contacts people when they have 24 hours or less left to live so that they can experience their last day however they choose. I don't think I would ever want to know that kind of information; it's such a heavy weight to carry around for even just a day. I did have empathy for them, but I was trying so hard to forge an actual connection with either and I just couldn't.
Something that I did enjoy despite not feeling a major connection to either of them was how both Mateo and Rufus gained personal growth from spending the day with each other: Mateo being able to get out of his shell more and Rufus learning to trust someone and have his heart soften. However, sometimes it felt like Rufus was Mateo's cheerleader through everything to the point where he didn't really get to live the day for himself. I can kind of understand it because Rufus wasn't able to spend time with his own friends given their circumstances, but I felt it was a bit less two-sided than I would have liked.
In a way, I wish we could have known more details about Death Cast and the whole behind the scenes processes that go into it, but at the same time I think Adam Silvera left that out for a reason. Although it would have been cool, we were meant to enjoy these two teens living their last day to the fullest and take away the inspirational message that came from their story, and including the background story of Death Cast would have probably taken away from that.
I am actually really torn about my opinion of this, especially after going to my book club meeting and hearing other people's views who had more positive opinions than I did. I would still recommend this to people because it does make you think and I still believe the idea behind the plot is so interesting. Just because it didn't quite live up to my expectations, doesn't mean the same will happen for you.
If anyone else has read this, I would love to hear your opinions on whether you enjoyed it or not and why! Let me know.
Catherine
---