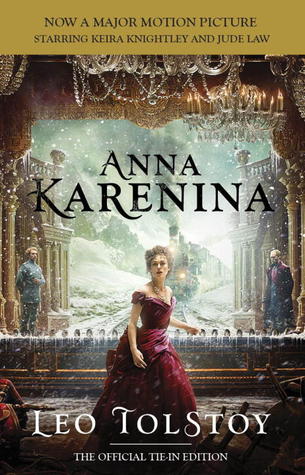 Author: Leo Tolstoy
Series: Standalone
Genre: Classic
Release Date: 1878 
Book Length: 964 pages 
Publisher: Vintage
Review: 3/5
Goodreads Synopsis:
Acclaimed by many as the world's greatest novel, Anna Kareninaprovides a vast panorama of contemporary life in Russia and of humanity in general. In it Tolstoy uses his intense imaginative insight to create some of the most memorable characters in literature. Anna is a sophisticated woman who abandons her empty existence as the wife of Karenin and turns to Count Vronsky to fulfil her passionate nature – with tragic consequences. Levin is a reflection of Tolstoy himself, often expressing the author's own views and convictions.
Throughout, Tolstoy points no moral, merely inviting us not to judge but to watch. As Rosemary Edmonds comments, 'He leaves the shifting patterns of the kaleidoscope to bring home the meaning of the brooding words following the title, 'Vengeance is mine, and I will repay.
My Review:
There were some components of this book that I absolutely loved, like the Anna and Vronsky storyline, and there were others that made me furiously rub my temples trying desperately to get rid of the migraine that ensued, like Levin going on and on in his head about agricultural practices for whole chapters.
Going into this story knowing virtually nothing, you can imagine that I thought it would be a lot more focused on Anna Karenina— I was very wrong about that. Now that I think about it, a lot of books written in the 19th century are titled after one specific character; however, the story focuses on that character's web of relationships with others rather than on them alone. Although commonplace for that time period, I would have much rather enjoyed reading a shorter book more closely centered on Anna's life.
Most of the book was about relationships and jealousy. I could almost guarantee that if I saw a character interacting with someone of the opposite sex who wasn't their significant other, in the very near future an argument concerning fidelity would ensue after which they would make up and it would happen all over again. While that was exciting the first, maybe, five or ten instances, after a while it got a little redundant. In addition, after the major climactic scene, the book took the biggest nosedive in history. It's like Tolstoy didn't have any more original ideas for how to end it off, so he made Levin go off on a philosophical enlightenment tangent. Again with these Levin tangents. I mean, I'm the first person to admit that I live for discussions about the meaning of existence, God, spirituality, etc. but it felt like it was just thrown in there for the sake of it. I needed some sort of closure from the climax and I felt like I was robbed.
I do still think that this was still a good book that has some nice passages in it. I liked it, but probably not enough to consider reading it again.
---