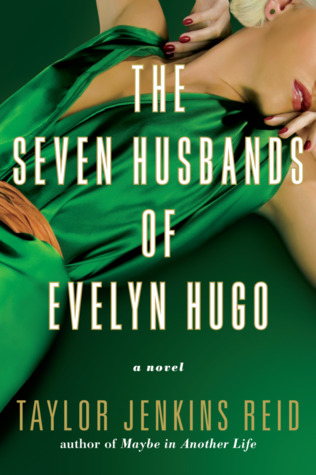 Author: Taylor Jenkins Reid 
Series: Standalone
Genre: Fiction
Release Date: June 13, 2017 
Book Length:  388 pages 
Publisher: Atria Books
Review: 5/5
Goodreads Synopsis:
Evelyn Hugo is finally ready to tell the truth about her glamorous and scandalous life. But when she chooses unknown magazine reporter Monique Grant for the job, no one in the journalism community is more astounded than Monique herself. Why her? Why now?
Monique is not exactly on top of the world. Her husband, David, has left her, and her career has stagnated. Regardless of why Evelyn has chosen her to write her biography, Monique is determined to use this opportunity to jumpstart her career.
Summoned to Evelyn's Upper East Side apartment, Monique listens as Evelyn unfurls her story: from making her way to Los Angeles in the 1950s to her decision to leave show business in the late 80s, and, of course, the seven husbands along the way. As Evelyn's life unfolds through the decades—revealing a ruthless ambition, an unexpected friendship, and a great forbidden love—Monique begins to feel a very a real connection to the actress. But as Evelyn's story catches up with the present, it becomes clear that her life intersects with Monique's own in tragic and irreversible ways.
My Review:
I HAD THIS ON MY TBR FOR SO LONG, WHY DIDN'T I PICK IT UP SOONER?! IT WAS AMAZING.
This was one of the most unique and interesting stories I have ever read. I have always been fascinated by Old Hollywood and its evolution, and getting to experience it through the life of this character was riveting.
Evelyn Hugo, blonde bombshell and sex symbol beginning her rise to fame in the 1950s, was a go getter; she knew that she wanted to be a star and she did everything in her power to make it a reality– even if that meant using her physical assets to get her there on more than one occasion.
The thing about Evelyn was that she had a way of making people feel special just by getting the chance to be in the same room as her and she used it to her advantage. She was a smart, strong woman who didn't take no for an answer; she was a woman ahead of her time. The truth is, I was enamoured by this person and no matter what awful things she did to the people she loved, I still really liked her. Yes she was a famous person with money and looks, but she wasn't without flaw which really attracted me to her character. Although she is fictional, she felt so real to me.
As you get to go through the amazing, lavish life of Evelyn Hugo, you begin to realize that it is not without trial, tribulation and heartache. There are some beautiful characters in this book, one of which being Harry Cameron. Everyone needs a best friend like Harry in their life; I think he was my favourite. I'm still really sad this is over because I'm just thinking about how I will never read about another character that compares to him.
The love story in this was really beautiful as well, and from the moment I found out for sure what was going on, I was rooting for everything to work out for them. In addition, I enjoyed reading the representations of love and intimacy in general. Love and sex mean different things to different people in different circumstances, and I think it was shown very well from every angle.
I think I can finally say that Taylor Jenkins Reid is one of my favourite fiction authors and I'm really excited to read her other books. I'm hoping this gets made into a movie one day because I have a feeling it could be so amazing on the big screen!
---