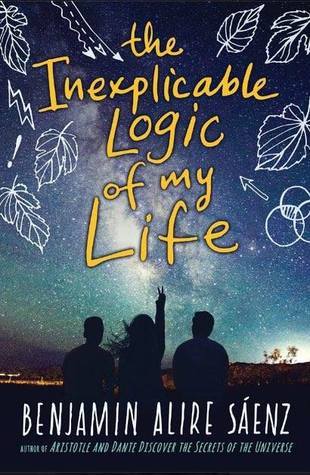 Author: Benjamin Alire Sáenz
Series: Standalone
Genre: Young Adult
Release Date: March 7, 2017 
Book Length:  452 pages 
Publisher: Clarion Books
Review: 5/5
Goodreads Synopsis:
The first day of senior year:
Everything is about to change. Until this moment, Sal has always been certain of his place with his adoptive gay father and their loving Mexican-American family. But now his own history unexpectedly haunts him, and life-altering events force him and his best friend, Samantha, to confront issues of faith, loss, and grief.
Suddenly Sal is throwing punches, questioning everything, and discovering that he no longer knows who he really is—but if Sal's not who he thought he was, who is he?
My Review:
You know that saying that goes, 'home isn't a place, it's a feeling'? Well, this book felt like home. It felt like being simultaneously lost and found. It felt like a million firecrackers going off in my chest—bright and burning; it kind of hurts but it's also kind of beautiful.
Salvador, Samantha, and Fito were all very intricate characters with many personal struggles and it evoked so much emotion from me to read about these friends who had each other's backs through it all. My favourite character was Samantha, she was so bold and wasn't afraid to speak her mind. Salvador always admired her fondly in the purest form of best friendship. He would always say things like, "That Sam, she is brilliant. And she's really pretty too. She has a beautiful face and a beautiful mind" and not once did he ever make it seem to the reader like he was saying it because he wanted to be more than friends. He was just saying it because it was the truth. So many YA books emphasize a romantic interest that the story kind of centers on, but this one didn't have it and I liked that. I also loved how she would always kiss Salvador and Fito on the cheek whenever they expressed a difficult thought or said something that made her happy; it was so endearing. The theme of friendship in this novel was just the best thing about it.
Sal's dad deserves a mention as well. He had the best words of wisdom, and it was the most amazing thing watching his relationship with Sal continue to bloom. As a white boy adopted into a Mexican family, I loved how Sal was always so embraced by his adoptive relatives. I wouldn't even call them his adoptive family, they were truly his blood.
I was struggling at a point to determine what rating I was going to give this, simply because it felt a lot like I was reading it in Aristotle's voice from Aristotle and Dante Discover the Secrets of the Universe (by the same author). I guess the narration, although so poetic, felt a little bit recycled? Also, the texting scenes were so far fetched in terms of language. It was extremely exaggerated and a bit cringy!
The truth of the matter is, for the last 25% I was crying on and off; the writing was just so magical. I never expected to cry or feel so many emotions at all, and for that reason I could overlook the minor flaws I experienced.
If you like Young Adult books about friendship, this is a book you must read!
Catherine
---