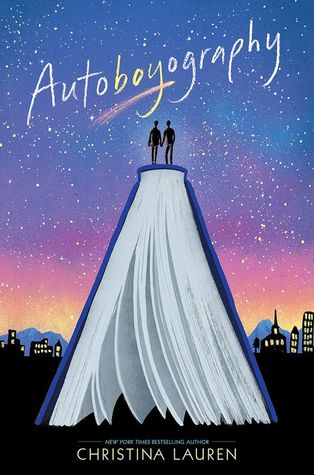 Author: Christina Lauren 
Series: Standalone 
Genre: Young Adult 
Release Date: September 12, 2017
Book Length: 407 pages 
Publisher: Simon & Schuster Books 
for Young Readers

Review: 5/5
Goodreads Synopsis:
Three years ago, Tanner Scott's family relocated from California to Utah, a move that nudged the bisexual teen temporarily back into the closet. Now, with one semester of high school to go, and no obstacles between him and out-of-state college freedom, Tanner plans to coast through his remaining classes and clear out of Utah.

But when his best friend Autumn dares him to take Provo High's prestigious Seminar—where honor roll students diligently toil to draft a book in a semester—Tanner can't resist going against his better judgment and having a go, if only to prove to Autumn how silly the whole thing is. Writing a book in four months sounds simple. Four months is an eternity.
It turns out, Tanner is only partly right: four months is a long time. After all, it takes only one second for him to notice Sebastian Brother, the Mormon prodigy who sold his own Seminar novel the year before and who now mentors the class. And it takes less than a month for Tanner to fall completely in love with him.
My Review:
I feel like anything I can say about this book will not do the sheer beauty of it justice. This is probably the first time that I can confidently say, "do judge the book by its cover because you will not be disappointed." The love that Tanner had for Sebastian melted off the page and into my heart; it was just so refreshing to read and I found myself getting extremely lost in the pages.
The story is a little insta-lovey, which I don't normally like, but it was done in a tasteful way such that Tanner was self-aware of his impeding lust for Sebastian, and made a conscious effort to get to know him in order to settle the lust to love. I actually didn't know too much about Mormons or the LDS religion going into this, but I felt it was very informative and educational so I was never lost.
The conflict that arose due to something that happened between Tanner and his best friend, Autumn, was semi-shocking. Their friendship began as a very atypical one in relation to the average platonic relationship you can imagine, so I guess that's why the ease at which everything went back to normal so effortlessly didn't really bother me that much. I could see myself having a bit of a problem with it though if it wasn't for that, because it is just not normal for two people to put things of that magnitude aside so simply.
Other than that, I loved this a lot and I know I will be thinking about it for a really long time; I need a sequel!
Has anyone else read this? If so, what did you think? Did you like it? I wanna know!
Catherine
---