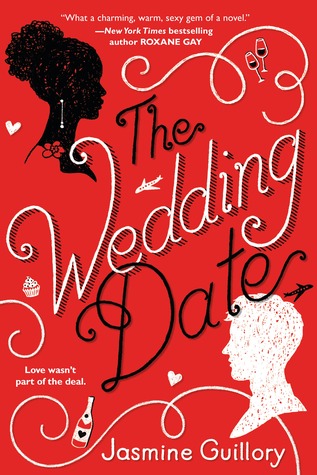 Author: Jasmine Guillory
Series: Standalone 
Genre: Contemporary Fiction
Release Date: January 30, 2018 
Book Length: 310 pages 
Publisher: Berkley Books

Review: 1/5
Goodreads Synopsis:
A groomsman and his last-minute guest are about to discover if a fake date can go the distance in a fun and flirty debut novel.
Agreeing to go to a wedding with a guy she gets stuck with in an elevator is something Alexa Monroe wouldn't normally do. But there's something about Drew Nichols that's too hard to resist.
On the eve of his ex's wedding festivities, Drew is minus a plus one. Until a power outage strands him with the perfect candidate for a fake girlfriend…
After Alexa and Drew have more fun than they ever thought possible, Drew has to fly back to Los Angeles and his job as a pediatric surgeon, and Alexa heads home to Berkeley, where she's the mayor's chief of staff. Too bad they can't stop thinking about the other…
They're just two high-powered professionals on a collision course toward the long distance dating disaster of the century–or closing the gap between what they think they need and what they truly want…
My Review:
My rating makes me really sad because I had very high hopes for this novel.
The synopsis sounds to me like a recipe for the perfect guilty pleasure romantic comedy—I would 101% get sucked into this plot if it were a movie (like I did with the book). Unfortunately, it didn't turn out the way I expected.
Before I get into the problematic bits, I just want to acknowledge the really good parts of this book, because they existed too:
-An interracial couple as the main characters. I didn't know this going into it, but I was really happy about the representation; I think that's important! Why have I not read a book about an interracial couple before?! (Can someone recommend me more?)
-Luke and Brendan. They were minor characters, but they were the only gay couple in the book. Again, I felt the representation was great.
-The switching narratives between Alexa and Drew. I usually don't like that, but this was executed well in my opinion. When Alexa's POV switched to Drew's, and vice versa, the story would continue where the other person's left off and it flowed perfectly.
-Carlos, Drew's best friend. The scenes with him were the best; he was awesome. Drew was an awful person to him for absolutely no reason though! If I learned one thing from this book, it's that if your 'friend' yells obscenities at you (multiple times) and kicks you out of their house just because you try to get them to admit they like a girl, they're a complete nutcase and you need to not be like Carlos and run as far away from them as possible, immediately. This review should just be a petition to get Carlos his own book, he deserved way better.
-The Pensive from Harry Potter was mentioned. Yes, that made it to my 'good things about this book' list. Not even going to explain why.
So, if I have a long list of good things then why did I give it such a low rating?
I went into this thinking that it would be cute. I mean, look at that cover; it's adorable. The first quarter centered on their meeting in the elevator and the actual Wedding Date. Beyond that, all that happened was a long-distance romance with some mind games thrown in there. This book exists because both of these people made things SO COMPLICATED.
Every time they met, it would be the same routine: one of them flies out to the other, they pick up tacos or In N Out or pizza on their way home, they have sex a million times (it's not even that I have a problem with it but it's not advertised as that kind of book, so it got to be a bit excessive after a while; and I don't think these people even knew each other because that's all they were doing, they barely spoke), both of them think 'I'm scared to ask what we are', they fly back home and wonder what they are for the whole week but don't bring it up, and they do this over again the following weekend. When it finally did get brought up, I felt like it was handled in the most childish way.
If you read this and loved it, I'm really happy you had a better experience than I did. Like I said, I did like some things about it but overall it kind of let me down.
If anyone has any good recommendations of other novels in this genre that they really like (or any genre really), please let me know!
Catherine
---