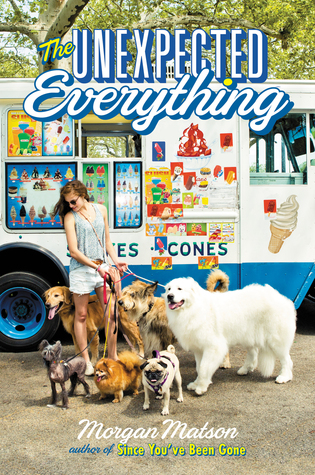 Author: Morgan Matson
Series: Standalone
Genre: Young Adult
Release Date: May 3, 2016
Book Length: 519 pages
Publisher: Simon & Schuster 
Review: 3/5
Goodreads Synopsis:
Andie had it all planned out. When you are a politician's daughter who's pretty much raised yourself, you learn everything can be planned or spun, or both. Especially your future. Important internship? Check. Amazing friends? Check. Guys? Check (as long as we're talking no more than three weeks).
But that was before the scandal. Before having to be in the same house with her dad. Before walking an insane number of dogs. That was before Clark and those few months that might change her whole life. Because here's the thing—if everything's planned out, you can never find the unexpected. And where's the fun in that?
My Review:
The Unexpected Everything is a very bold title choice for this novel, considering that almost everything that happened was something I did somewhat expect. Nonetheless, I did quite enjoy this one.
The main character, Andie, was so mature at the beginning of the novel, I love how her relationship with her dad blossomed, and the bond she had with her best friends. However, somewhere around the 75% mark, it's like someone flipped a switch and Andie became extremely irrational and immature. I honestly wasn't expecting it (so I guess there are some unexpected things in this book after all!). Despite this, I really like Morgan Matson as a writer; her stories come to life in a way that's pure magic and regardless of how I felt about this particular book (even though 3/5 is not a bad rating by any means), she will always be one of my favourite authors.
Now, anyone who has read the book or even the synopsis knows that Andie is a dog walker for the summer. For this reason, I decided to create a Spotify playlist of the songs I think she would listen to on these walks based on her character and things that happen to her in the novel.
Has anyone else read this? What did you think of it? Are there any other songs you would add to the playlist? Let me know!
---