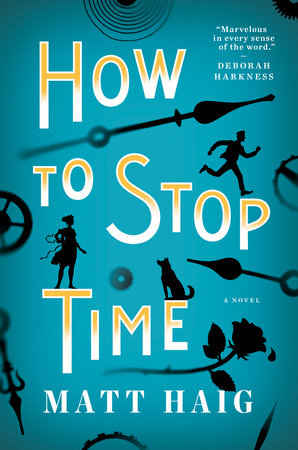 Author: Matt Haig
Series: Standalone
Genre: Fiction
Release Date: February 6, 2018
Book Length: 336 pages
Publisher: HarperAvenue 

Rating: 3/5
Goodreads Synopsis:
A novel about love, loss and living in the moment, from the bestselling author of The Humans
The first rule is that you don't fall in love. There are other rules too, but that is the main one. No falling in love. No staying in love. No daydreaming of love. Because otherwise, of course, you slowly lose your mind . . .
Tom Hazard has a dangerous secret. He may look like an ordinary forty-one-year-old, but he was born in 1581. Owing to a rare condition, he's been alive for centuries. From Shakespeare's England to Jazz Age Paris to voyaging the Pacific alongside Captain Cook, Tom has seen a lot, and he now craves an ordinary life.
Always changing his identity to stay alive, Tom now has the perfect cover—working as a history teacher at a London school. Here, he can teach the kids about wars and witch hunts as if he'd never witnessed them first-hand. He can try to tame the past that is quickly catching up with him. The only thing Tom can't do is fall in love.
How to Stop Time is a wild, bittersweet, time-travelling story about losing and finding yourself, about the certainty of change, about the mistakes humans are doomed to repeat.
And about the lifetimes it can take to learn how to live.
My Review:
It's very rare that I prioritize reading a book so soon after its release, so that in itself indicates how excited I was for this. You could probably tell by my rating though that it fell a little bit short of my expectations.
The main thing that I had trouble with were the characters. Tom Hazard, our main character, felt a little bit flat to me. How can that be for someone who has been alive for 400+ years? Well, for starters, for the majority of the book, Tom is recounting the romance he experienced with a woman named Rose sometime in I believe the 1600s. That romance did feel believable and real to me as we got to experience the flashbacks.
However, now in present day, Tom meets someone again for the first time since Rose and begins to fall in love all over again. It was a) love at first sight in a way, which I don't particularly like; and b) completely unbelievable to me as the reader. I was expecting fireworks, especially because the premise of the book sounded to me like something deep and meaningful was going to happen; something that would speak to me from the heart. But probably 90% of the time she was angry at him for lying to her about his circumstances in the Albatross Society, a group of people like Tom who age just as slowly and who are supposed to protect each other. Any normal person who finds out about the secret society gets killed, so he was trying to do her a favour. I just wish we got to see their romance flourish a bit more. Additionally, I can't say I felt anything for the ending; it didn't really shock me or leave a lasting impression on me which I so badly wanted!
The best part for me was that I loved the writing style. I think the author spent a great deal of time and effort making the flashbacks into the 1500s-1990s extremely fun and I learned a thing or two about history; I felt like I had been taken back through a time machine. Also, there are some very wonderful takeaways about life in here; the only thing is I wish it had packed that punch for me at the end.
The premise of this novel is original, and I did like it enough but I think so much more could have been done to take it up a notch. I do love the way the author writes, so I would definitely give one of his other books a chance, however, this one didn't affect me as much as I wanted it to.
That's not to say that someone else can't enjoy it though, so if you like time travel, history, and beautiful world building, this might be the book for you!
---