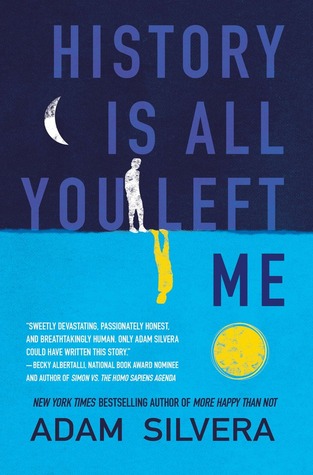 Author: Adam Silvera
Series: Standalone
Genre: Young Adult
Release Date: January 17, 2017
Book Length: 294 pages
Publisher: Soho Teen 

Review: 4/5
Goodreads Synopsis:
When Griffin's first love and ex-boyfriend, Theo, dies in a drowning accident, his universe implodes. Even though Theo had moved to California for college and started seeing Jackson, Griffin never doubted Theo would come back to him when the time was right. But now, the future he's been imagining for himself has gone far off course.
To make things worse, the only person who truly understands his heartache is Jackson. But no matter how much they open up to each other, Griffin's downward spiral continues. He's losing himself in his obsessive compulsions and destructive choices, and the secrets he's been keeping are tearing him apart.
If Griffin is ever to rebuild his future, he must first confront his history, every last heartbreaking piece in the puzzle of his life.
My Review:
Griffin is completely shattered by the loss of his best friend and first love, Theo. The story is read kind of like a journal to Theo, as Griffin talks to him as if he were still alive. We are taken through Griffin's life, alternating from the present where Theo is no longer alive, to the past where Theo and Griffin started their love story. After reading the very first page, my heart broke and I spent the remainder of the novel trying to put the pieces back together.
Although I felt compassion for Griffin and the huge loss he was dealing with, he was not a perfect protagonist and I found myself getting frustrated with him at times. He was very selfish and often used people for personal gain—mostly emotional, but some physical. He had a great support system in his parents, his best friend, Wade, and Theo's boyfriend, Jackson, but he often brushed them aside which made me sad because he only embraced them when it was convenient for him. Despite all of that, I really saw a change in him as the story progressed.
My favourite character by far was Theo; I loved how witty, charming, selfless, and smart he was. Adam Silvera did an excellent job of making Griffin's loss your loss too. I couldn't get enough of the flashbacks of their relationship, as I wanted to read more about Theo. I feel like because he was written so well, the story was really able to take flight because you as the reader wanted to find out what exactly happened to him. How could someone with so much love and potential die in such a tragic way? Was it really an accident? These are some of the questions you develop while reading and it makes you want to immerse yourself in the story to find out what really happened.
My one major disappointment with this book was that I didn't get a good cry out of it like I wanted! (Yes, I actually wanted to cry). It's not that I didn't feel emotional, because I did, but a lot of the story centered on Griffin and it got difficult to sympathize with someone who was so destructive of his relationships. Other than that, this was a great book. I highly recommend it and I can't wait to read more of Adam Silvera's work soon—the next book on my TBR of his being They Both Die at the End.
Has anybody else read this or any other Adam Silvera book? What did you think? I would love to hear your opinion!
---