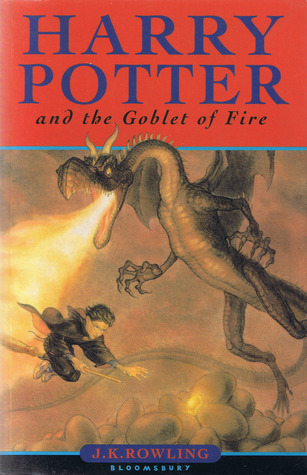 Author: J.K. Rowling
Series: Harry Potter #4
Genre: Fantasy
Release Date: July 8, 2000
Book Length: 636 pages
Publisher:Bloomsbury Publishing

Rating: 5/5
Goodreads Synopsis:
It is the summer holidays and soon Harry Potter will be starting his fourth year at Hogwarts School of Witchcraft and Wizardry. Harry is counting the days: there are new spells to be learnt, more Quidditch to be played, and Hogwarts castle to continue exploring. But Harry needs to be careful – there are unexpected dangers lurking…
My Review:
I DID IT. I finally got over my three book curse when reading series'. Somehow, I always end up stopping after the third book in everything, but boy am I glad this is the one that broke the spell. Before I say anything else, I just want to say that yes, this is my first time reading Harry Potter—I had only ever read the first book as a child and watched the first 4, maybe 5 movies, but I remembered virtually nothing so this has been a really fun experience!
First of all, the Weasleys—oh, how I love that family! They don't have much, but they have each other and that's all they need to be happy. I just feel so much warmth and love whenever Harry is in their presence and I can't get enough of the chapters that they are all in. I'm so glad that Ron is close friends with Harry because he actually makes me laugh out loud with his sarcastic comments; I always find myself smiling at the pages with his one-liners.
I can truly feel, now that the main characters are 14 years old, that the book is starting to take a more mature direction. Not only is Ron making inappropriate jokes, but it seems like Harry's crush on Cho Chang has not diminished either. I love when he gets all flustered spotting her from across the room, it's so cute!
This has definitely been my favourite book of the series so far. The Triwizard Tournament was extremely riveting to read, and getting introduced to new magical creatures like the Veela, Merpeople, and Dragons was so interesting. I feel like I'm in a whole other world when I'm reading the series and I never want to put it down.
I'm about to go into a bit more depth with things that happened that shocked me, and although I am aware literally millions of people have read this and/or seen the movie, there are weirdos like me out there somewhere who haven't / don't remember, so in an effort to protect those people I will warn you:
*SPOILERS AHEAD*
There were a lot of twists and turns with this one, especially in the last 5 or so chapters. Cedric's death made me gasp; I was in such denial that I read the whole page over again to make sure it was true. I felt so bad for Harry; I would have felt horrible if I tried to do something good by letting us both win the tournament at the same time and he ended up dying for it. That scene in itself felt like a huge twist, but then I was completely stunned when Mad Eye Moody wasn't even the real Mad Eye Moody?! He was being held hostage the whole time, poor guy. I should have known though because Defense Against the Dark Arts teachers never last long. Every explanation as to why things happened throughout the course of the book tied together with the most perfect little bow at the end, and I'm still so speechless about it!
I'm going to take a short break from the series to catch up on some of my other highly anticipated reads for the year, but I cannot wait to see what is in store for Harry next now that Voldemort is back!
What is your favourite book or movie in the series? Do the movies live up to the books? I would love to hear your opinion in the comments!
---